Chicago, USA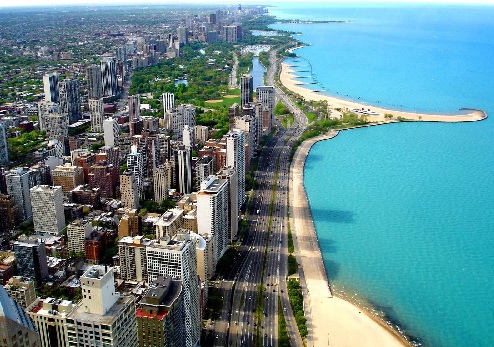 Earn your TEFL certification in the heart of Chicago's Near North Side. Situated in the dynamic neighborhood of Lakeview, the cource center is a mile away from Lake Michigan on Diversey Parkway just north of Lincoln Park, DePaul University and one mile south of world famous Wrigley Field (home of the Chicago Cubs for you sports fans). As one of the largest and most diverse cities in America with a multicultural blend of over 100 different ethnicities, Chicago is an ideal locale for your introduction to the field of teaching English as a foreign language (TEFL). It also offers a staggering array of cultural, recreational and culinary attractions from world-class art and opera to professional sports and a vibrant music and nightlife scene.
This is a QCF Level 5 course and is accredited by NCFE, one of the leading accrediting bodies in the UK. QCF Level 5 is the highest level of accreditation for TEFL certification, and is the equivalent of a CELTA course. Employers worldwide value a Level 4 and Level 5 as the benchmarks for objective quality assurance.
Course Location
TEFL classes are held in the heart of Chicago's Lakeview/Lincoln Park neighborhood. Spread over more than 4,000 square feet, the course center includes brand new classroom facilities, computer work stations, reference library and student lounge. It is five minutes away from Lake Michigan and 15 minutes from downtown Chicago by train or car.
Course Fees
$ 1,995 plus housing costs and text books.
Deposit of $ 600 and balance due 30 days before class starts. * $ 50 discount if paid in full at time of registration.
Accommodations
We can provide advice on housing options nearby in hostels that are located in Lincoln Park and downtown Chicago, all within minutes from public transportation.
Several hostels are conveniently located near the course location with prices ranging from $27-$35 USD and up per night. Hostel options include Hostellng International, AAE Chicago Parthenon Hostel, and Chicago Getaway Hostel. Short-term furnished apartments and subleased rooms are available throughout the city year round.
Course Dates
August 12 – September 6, 2013
September 16 – October 11, 2013
October 21 – November 15, 2013
November 18 – December 13, 2013 *
(*includes one mandatory class on Saturday, November 23)
January 6 – January 31, 2014

February 3 – February 28, 2014

March 10 – April 4, 2014

April 7 – May 2, 2014

May 12 – June 6, 2014

June 16 – July 11, 2014

July 14 – August 8, 2014

August 11 – September 5, 2014

September 15 – October 10, 2014

October 20 – November 14, 2014

November 17 – December 12, 2014

*
*(Includes one mandatory Saturday due to Thanksgiving break, Day TBD)